Enjoy an instant splash pad with our portable splash pad line & mobile spray and play features
Now you can turn any yard, patio, driveway or deck into an instant splash pad with My Splash Pad's Portable Splash Pad line, Portable Splash Pad Water Play Features and Mobile Spray and Play Features. Our Portable Splash Pad line is also a great addition to your preschool, daycare, or dog water park for instant splash pad fun!
We ship our products direct from our manufacturing facility, right here in the USA.
When you purchase from My Splash Pad™, you're purchasing direct from the manufacturer. No middle man. No trips to the big box store. Our products ship fully assembled and ready for outdoor water play fun. Simply place the portable splash pad or mobile water play feature on a level surface on your yard, patio, driveway or deck, attach a garden hose, turn on the water, and enjoy. No electrical outlet needed. No chemicals required. And they are available to you at a fraction of the cost of a permanent concrete splash pad installation.
Are you ready to enjoy the backyard splash park experience?
My Splash Pad is a leader in the splash pad industry!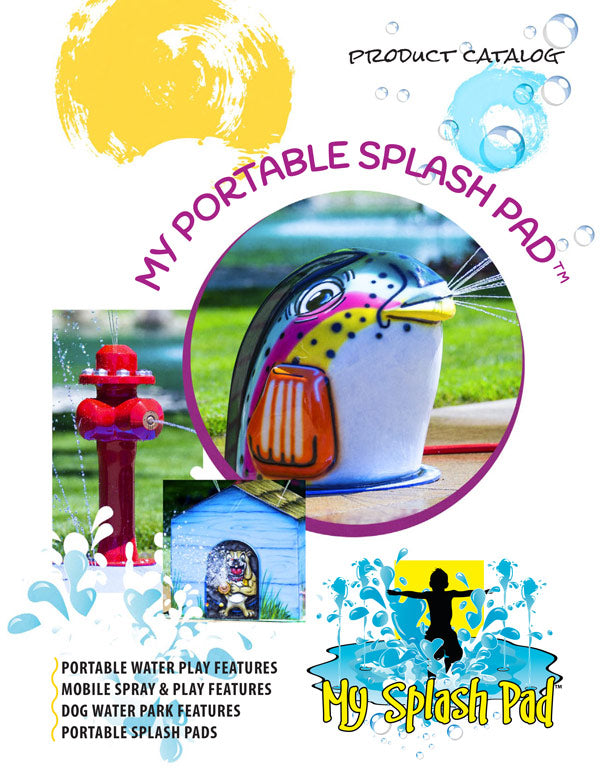 My Portable Splash Pad Product Catalog
Explore our fun & colorful catalog of Portable Water Play Features,
Mobile Spray & Play Features, Dog Water Park Features, and Portable
Splash Pads!
DOWNLOAD